On February 20, 2020, Detroit's Premier Wedding DJ, Todd Everett, of the The Todd Everett Experience Mobile DJ, Lighting & Photobooth Services took his talents to the Milwaukee Junction ( name inspired by railroad line) area of Detroit, MI for a Wedding Celebration at the historical Ford Piquette Avenue Plant.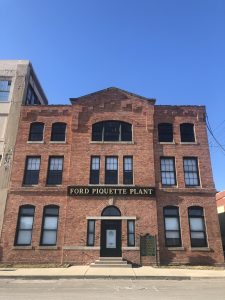 The building was built in 1904 and it was the second center of automobile production for The Ford Motor Company. They produced Models, B, C, F, K, N, R, S and T in this plant and after assembled, the automobiles were shipped out by the railroad. This railroad was part of a two railroad line and became the hub for Detroit's emerging auto industry. The factory was used by Ford until around 1910 when Ford relocated it's car production to the city of Highland Park, MI, which is a neighboring city to Detroit. This building is now a museum that can be rented out and used for Weddings, Corporate and Private events.
Nathan & Claire's Detroit Wedding Reception took place on the 3rd floor of the Ford Avenue Piquette Plant. The space has a historical vibe with hardwood floors, large windows and brick walls. You can find a variety of classic 1900 Ford model automobiles lined up perfectly as you walk through the event space.
It was a must that The Todd Everett Experience highlighted the inside of this landmark by uplighting the brick walls and steel columns. The bride and groom agreed to beautify their event space with Amber color uplighting to create an excellent contrast between their wedding colors.
The couple did not have a Wedding Planner or Coordinator for their Wedding Reception. One of the reasons they hired The Todd Everett Experience is because the Detroit DJ Company is well-known for their ability to DJ, Host and coordinate their events, if needed, in addition to providing music.
Cool, Fun and Diverse Energy! The night started out with some upbeat Pop hits and then transitioned into some 70's Disco. Once Nathan and Claire's guest were able to take a fun musical journey back into time, Todd Everett gave them a breather and let them wind down to some slow Motown classics. As the daylight began to dwindle down and the uplighting and dance floor lighting began to create the perfect ambiance, Todd Everett elevated things and went into party mode. The guest danced, sang and shouted for the remainder of the night. There was never a dull moment as the music went from Top 40 to Hip-Hop to Funk to Techno. These wide range of musical selections kept the guest asking for more but unfortunately at 11:00PM they had to shut things down. As a last song, Todd Everett gathered all the guest together to sing a Detroit classic, Eminem's "Lose Yourself". Yes I know it's not the typical song that you might hear at a Wedding, but when you're in the City Of Detroit, what other way is there to end a great night besides playing a hit from one of the city's well-known artist!
Thinking of having your next Wedding, Corporate, or Private Event at the Ford Piquette Avenue Plant?
The Todd Everett Experience knows exactly how to work this space to make it an unforgettable experience!
Reach out to us at  248-808-1902 or info@thetoddeexp.com to discuss your Event further."
Please check out the video above and make sure you subscribe to our YouTube Page.
Follow On IG: @thetoddeexp
Blog By: Free Game