These nothing more exciting to a "Vinyl Lover" than randomly coming across a brick and mortar filled with classic vinyl.
While driving down Woodward Avenue in the city of Royal Oak (suburb of Detroit, MI), a local Detroit DJ, Todd Everett of The Todd Everett Experience, came across a small charcoal colored brick building with signage that said "Detroit Record Club". The building was pretty plain and didn't resemble what one would typically expect for the exterior decor of a record store. No large posters on the window, no colorful stickers on the entrance doors. After second guessing his decision to keep driving toward his original destination, Todd Everett decided to make a quick Michigan u-turn and head back to this unique looking commercial business space for a more thorough observation.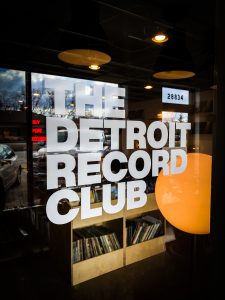 Walking inside of this boutique record store gives you a homely vibe of of the 70's and early 80's. One nice size room of vinyl, vintage stereo speakers, wood enclosed stereo receivers and record players. The coolest part is that the store is very clean and you don't experience the dusty and dirty room vibe that you get with most record stores. One of the most noticeable attractions is that each piece of vinyl is housed in its own plastic vinyl protector sleeve. The Detroit Record Club sales new, re-issued and used vinyl. Each piece of used vinyl has cover art in great condition and the vinyl is given some extra TLC because they use a high-performance record cleaning machine to make sure they are giving their customers the best quality possible
Of course I could share more from Todd's first visit to the Detroit Record Club, but he encourages every one to go see for themselves!
Blog By: Free Game