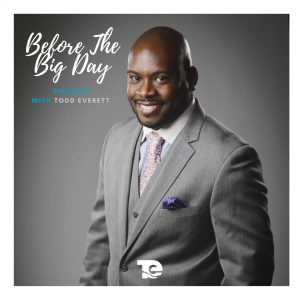 Before this unexpected global pandemic we've grown to know as COVID-19  took full attention of our daily lives, Lead DJ and Founder (Todd Everett) of one of Detroit, Michigan's most highly rated and recommended Wedding DJ Companies, The Todd Everett Experience, had the opportunity to chop it up with Lorri Lewis (Host of "Before The Big Day" Podcast) about selecting the right Wedding DJ.
In some cases, most people have never hired a DJ, let alone a DJ for their Wedding Day. It can be challenging and some-what scary. "Where do I start?", might be the first question that one might ask themself. Well, initially most people who are outgoing and have very active social lives might consider one of the DJ's that usually spins at one of their favorite frequent hang-out spots. Other's first natural starting point for searching for their Wedding DJ might be the same place that they tend to search for everything else, on Google or on their preferred search engine platform. The third place might be to explore one of the popular online Wedding Planning Platforms and/or registering to attend a series of local Bridal Shows in their city.
One recommendation that Todd Everett shared on the Before The Big Day Podcast, is to read previous online reviews from your prospective DJ's couples or clients. A couple's past experience with your prospective DJ may offer you more detailed information about the DJ that reaches beyond what the DJ does on the turntables. For example, they might share something about how good or bad communications with the DJ was leading up to their Wedding Day. They may also tell you if or how that DJ may have exceeded or fell short of meeting their expectations.
A second recommendation is to be open-minded when communicating with your prospective DJ. In this tech-savvy world, we tend to put all of our faith in what we see and read online. Google and other online Wedding Industry platforms tend to provide couples with a long list of generic questions to ask a DJ. Some of the questions are far-fetched and some may lead you to a dead end. For example, asking your prospective DJ if they can send you a mix of them performing. With it being so easy to borrow and steal from the internet, it is very easy for a DJ to send you a mix that can possibly belong to someone else. Not saying that your prospective DJ will participate in such a dishonest act, but it can happen. Also, a pre-recorded mix will not give you an accurate gauge on what this DJ can do when they have 200-500 people in front of them. One golden nugget that Todd Everett shares is to meet your DJ in person for a one-on-one consultation. See if he/she has a welcoming demeanor. Does the DJ seem shy or too laid back? Does the DJ smile? Is the DJ well-groomed.? These are some important things to consider because in addition to you, you would want your immediate family members and guest to feel comfortable with who's providing the entertainment on your Wedding Day.
Follow us on IG:
Subscribe To Our Youtube
Blog By: FreeGame